The Cone Game
A downloadable game for Windows
Warning!
The current demo of Cone game is for mature audiences only. The game contains user generated messages, with risk of profanity and offensive content. We are continuing to improve and develop the game to reduce the possibility of offensive material, however until we can confidently promise this, please report any offensive content to our email / discord:
- Email: contact@darkroom.games
- Discord: https://discord.gg/yua4U9Y
Live Streaming Recommendations:
Custom messages can be disabled in the start menu, you may face issues with Twitch and YouTube if potential user messages break guidelines. Stream at your own risk, however we recommend disabling messages if you are concerned about this factor.
Updates
Remember to download the latest version! (Last updated: 14/04/20, 16:00)
---
Compete with other players by placing your cones in the hardest to reach spots.
The Cone Game is a persistent online world - every cone that is placed updates in real-time worldwide. That's right - every cone you see has been placed by another player and it's your job to reach them!

You play as one of the many cones that have been placed atop the head of the Duke of Wellington's statue in Glasgow, Scotland - Now it's your chance to prove you're the very best one!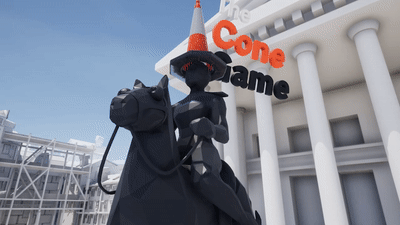 Placement
There are lots of spots to put a cone in Glasgow, including:
The Titan Crane
The Armadillo
The GOMA (Gallery of modern art)
The Clyde Arc… or more accurately the Squinty Bridge
The Glasgow Tower… yes it's still shut
You could put a cone over here, or over there, or even up there. And when you place it, everyone else can see! Just.. avoid the Clyde… cones aren't the best of swimmers!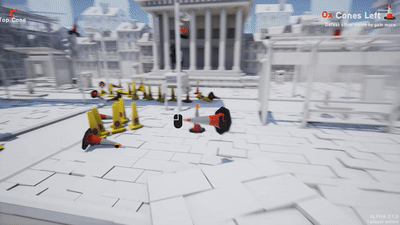 Persistence
The Cone Game is a persistent online world, with cones from all around the globe looking to come out on top. Once you reach another player's cone it will change from a miraculous red cone filled with ambition, to a yellow melancholic shadow of itself, destined to watch as others surpass it… In order to stop such shame befalling you we recommend only placing your cone in only the hardest to reach places. Don't give up, we believe in you!
The cone that has stood the longest gives out a majestic beam of light. That's the proudest cone in the world... place your own next to it and show it that it's not very special after all.
The Humble Cone
In order to reach the top in the world of cones you are going to need to think (and move) like a cone: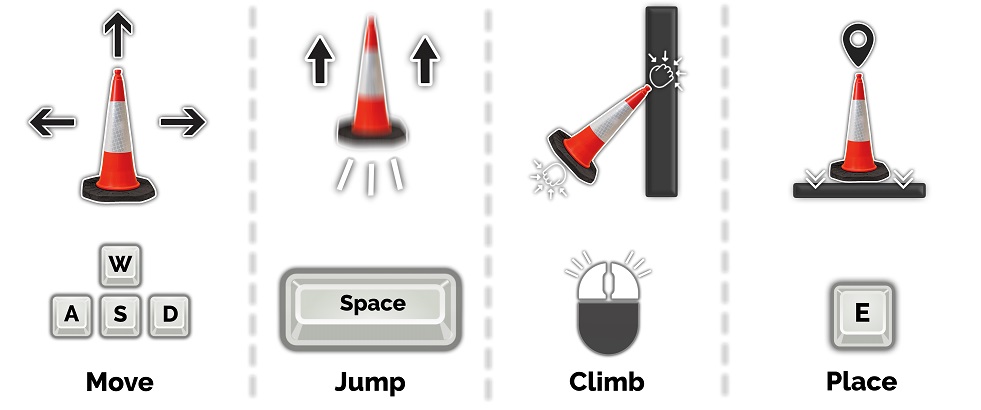 Controls:
Roll (W,A,S,D)
Jump (Space)
Climb (Left and Right Mouse)
Place Cone (E)
Remember, a true cone doesn't go for just the tallest spot on the map... but the spots that make other players stop and ask "how did that get there?!"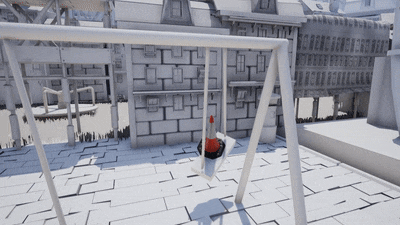 Just the Tip
Now while a world filled with cones might seem like enough to satisfy even the most voracious gaming appetite, There are still some secret buttons to discover and playground toys to interact with. Look around and discover the fun Glasgow has to offer!
Get in touch!
Are you a fan? Other developer or publisher? Get in touch at: contact@darkroom.games.
Cone game is a prototype made in two weeks, but we are happy to continue the project if we have enough fans interested.
Follow us on twitter @darkroom_games
Download
Click download now to get access to the following files: